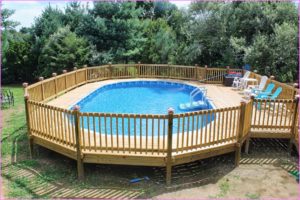 There is a type of pool for everyone, every space and every purpose. Thanks to advances in construction and more available materials, traditional in-ground pools can take on about any look. Whether you opt to DIY with an above-ground kit or hire a pool company to install an inground style, safety is key.
Unfortunately, this hub of fun family activity can be deadly if left unchecked and unguarded. That's why it's important for every owner to educate himself or herself about water safety and maintain a safe pool environment. Furthermore, owners need to ensure family, friends, neighbors, and guests not only know, but follow, pool rules.
According to the American Red Cross, there are a few rules that apply to every pool owner.
How to Secure a Pool
In some regions, homeowners may be legally required to enclose or cover their pool for the safety of their neighbors.
Install a fence that is at least four feet high, and ensure it has a self-closing, self-latching gate.
Cover your pool or other water feature when you're not using it.
Remove access stairs or ladders when everyone is out of the pool.
Add a pool alarm that alerts you whenever someone enters.
Supervision
While smart home alarms can help keep an eye on activity in the pool, it is no substitute for adult supervision.
Never let anyone swim alone.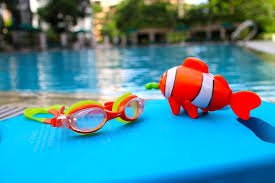 Actively supervise children at all times.
Non-swimmers should not enter the water without a responsible party, and should always be kept within arm's reach.
When required, use a US Coast Guard-approved life jacket.
Pool Maintenance
Clean and test water regularly to ensure proper filtration, circulation, and chemical levels. Broken ladders, chipped concrete, non-functioning gates, missing drain covers, and other common problems should be repaired immediately. Required safety equipment should always be easy to access and in working order.
Water Safety
Anyone who lives in the home or visits frequently, like grandchildren or other extended family members, should be taught how to swim at an age-appropriate pace. Rules related to pool behavior and access should be taught, posted, and enforced.
Everyone in the home should know how to respond in the event of a water emergency. Teach kids how to call 911. Consider taking and training everyone how to administer CPR.
Of course, those recommendations are just the basics when it comes to pool safety. There are some circumstances that require even more discernment. Parents of young children, pet owners, seniors, and people with disabilities should take extra care and attention to ensure their household stays safe.
For Parents
Drowning is the leading cause of unintentional death in children ages one to four, according to PoolSafely.gov.
Parents and caregivers should also pay special attention to drains. Children's hair, small limbs, jewelry, and bathing suits can get stuck in drains and suction openings, trapping them under the surface of the water.
To reduce the risk of this happening to your child, you should check drains prior to entering. Don't use a pool or hot tub with a broken, loose, or missing drain cover. For hot tubs, find the emergency shut-off switch before getting in the water.
For Pet Owners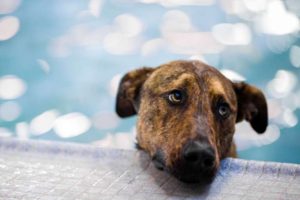 Cats are not the only pets that hate water. Contrary to popular belief, not all dogs are natural-born swimmers, either. No matter the breed or species, you must take special care to ensure your four-legged friends' safety in and around your pool.
Not surprisingly, pets are like children. You should teach your pet to swim. Use an approved life vest, and build a fence around the pool's perimeter.
For pets who can and do love to swim, there are some pretty handy safety gadgets that can make it easier for them. Specially-designed ramps not only make it easier for your pet to enter the pool, but they also provide an exit for pets who fall in accidentally. A ramp can also help prevent small, wild animals like squirrels, raccoons, or opossums from drowning in the water.
For Seniors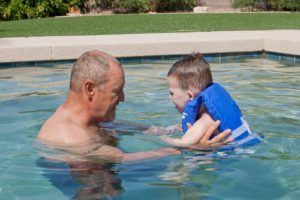 Pools can be both fun and therapeutic for senior citizens and the elderly, offering a cool, low-impact way to exercise joints and maintain muscle tone. However, as you get older, your abilities change. Like with other areas of your life, you must begin paying attention to accessibility.
Equip your pool with securely-attached rails to assist with entering and exiting, or install a pool lift. You should also be sure to keep the deck clean and free of debris that could cause you to trip and fall.
If it's been a while since you used it, or you are just starting to need assistance, many pool companies will perform a safety and accessibility check for you. Finally, like anyone else, you should never swim alone.
For People with Disabilities
According to one expert at the University of Utah, part of the challenge with swimming with developmentally-disabled children and adults is that they don't always understand the risks associated with not following pool safety rules. From inappropriate horseplay to removing their flotation devices due to sensory issues, it's important to watch these individuals more closely to ensure they are not putting themselves or others in danger.
When it comes to physical disabilities, all public pools must adhere to guidelines set by the Americans with Disabilities Act. Examples of the requirements include swimming pool lifts, sloped entries, transfer walls with grab bars, and accessible stairs. For homeowners with disabilities or disabled family members, including as many of these same features as possible can make your pool safer and easier to use.
No matter what style, size, or shape of pool you end up with, you should always consult a few local pool installers to ensure it is well-built and properly-maintained. That's step one in pool safety.
Check out The Demographics of the North American Camper