The stellar beauty of the Great Smoky Mountains National Park is no secret. This 521,000-acre park straddling North Carolina and Tennessee attracts 9 to 10 million visitors a year—more than the Grand Canyon and Yosemite combined. It's the largest chunk of wilderness in the Southern Appalachians and one of the most biologically diverse forests in the country. The best news? Most visitors cluster at the same few spots. Cades Cove Loop Road alone sees 1.5 million a year—and that doesn't include the campgrounds. Do just a little exploring and you'll leave the throngs behind. This drive hits some of the best-kept secrets in the Smokies, from hidden picnic spots to fireside dining.
In & Around the Smoky Mountains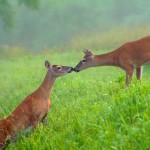 1. Best Fall Fun
The Watershed Cabins resort (from $99), outside Bryson City, has on-site bocce, hiking trails, a waterfall, and a fire pit. watershedcabins.com
2. Best Picnic Spot
At 5,310 feet in elevation with giant stone tables, Heintooga Picnic Area off Balsam Mountain Road near Cherokee makes a beautiful, out-of-the-way rest stop.
3. Best Local Color
Witness the "rut," when male elk bugle and spar for a partner, with master naturalist Esther Blakely (four-hour tour; $40). cataloocheevalleytours.com or 828/450-7985
4. Best Souvenir
Trout caviar ($22/oz.) from local, stream-fed Sunburst Trout Co. farm, sold at the new Sunburst Market on Montgomery. 828/452-3848
5. Best Campfire
Cataloochee Ranch (from $205) has down-home dinners and entertainment—think steaks and pickin' around a campfire. cataloocheeranch.com
6. Best Cheap Bite
Pick up a box lunch ($5) at Hillbilly Grocery in Maggie Valley before driving Newfound Gap Road through the heart of the park. hillbillygrocery.com
7. Best Photo Op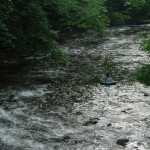 Find the 30-foot Spruce Flats Falls at the end of a 1-mile hike behind the Great Smoky Mountains Institute at Tremont. This secret waterfall is not on most park maps.
8. Best Reader Deal
Dancing Bear Lodge & Restaurant is offering SL readers 25% off room rates December 2012 through March 2013. (Use code SLDEAL) dancingbearlodge.com or 865/448-6000
9. Best Fancy Grub
Sweet tea-brined pork tenderloin ($24) with a cornbread-and-tomato salad topped with pickled ramps and goat cheese ($6) at Dancing Bear Restaurant.
10. Best Detour
Drive the Foothills Parkway for 11 miles south of Townsend for an unobstructed view of the Smokies from the Look Rock observation tower.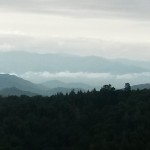 From the October 2012 Magazine Issue|Article: Graham Averill Print Email
via Smoky Mountains Top 10 Stops – Southern Living.