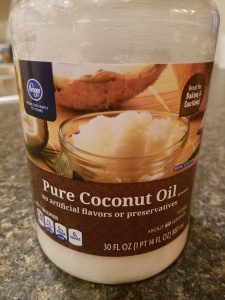 We are quickly approaching that time of year again where it seems as though everywhere we go, there are people around us struggling with the seasonal cold and flu germs. We can't stop the germs themselves, but we can stop the attack it enforces on our wallets. Have you ever stopped to think about how much money we spend during this time of year? Sure, the holiday spending is expected. What about our wellness protection? The tissues, hand sanitizers, over-the-counter prescriptions, etc. I get sick just thinking about all of that!
Something I have learned in recent years is the importance and appreciation for homemade items. Homemade gifts are always cherished, but it's also the homemade remedies that we really benefit from as a family as well. The everyday items we take for granted are all things that I have found myself making more and more of as time goes on. During this time of year, every penny counts. If I can save my family money and put more into our holiday budget, that's a win in my book. That's why I have perfected my own recipe of hand soap in order to keep one step ahead of whatever I might contract from the grocery cart handle or my 100 different methods of over-protection simply failing me yet again. Biohazard suits worn by the general public are still frowned upon, so I'm told.
What I like most about this recipe is the coconut oil (aside from the fact that I just enjoy concocting whatever smell I can whip up from the arrangement of various essential oils). Coconut oil is a great natural alternative for using as a substitute, whether it be for cooking, cleaning, you name it. Coconut oil does great things for our skin, especially during times when we're exposed to the harsher elements of the season. I find that my hands feel hydrated and smooth for longer than they would with any store-bought brand I've tried in years past.
This Kroger store-brand coconut oil is the best one that I've tried so far. For those that do not care for coconut or would prefer that the smell be a bit more muted, this is the perfect choice (in my opinion, of course). I have tried countless other brands and this has been the least expensive and least offensive smelling above all the rest. This large 30 ounce jar costs around $4 at my local Kroger store.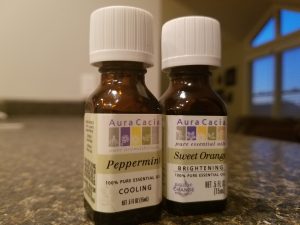 Aura Cacia Oils
I also prefer the Aura Cacia pure essential oils for my DIY projects as well. They have always been extremely fragrant and have lasted for quite some time, even after multiple uses. The Sweet Orange is our family-favorite. We do just about everything from adding a few drops to our garbage disposal and occasionally to our mopping solution to give our hardwoods a pleasant smell throughout the house. These two scents are rather common and also some of the cheaper ones, costing between $5 or $6 a bottle (I know that sounds like a bit for a bottle containing .5 ounces. Remember, you only need a couple drops per project so your essential oil should last for quite some time before you need to restock).
To make my natural hand soap, you will need only the few following ingredients:
½ tsp. fractionated coconut oil AKA "liquid coconut oil"
2 Tbsp. liquid castile soap of your choice
12 oz. purified water
10-15 drops of any essential oils of your choice
Recycled soap dispenser (the ones found here are ideal for this project)
Start by pouring the necessary amount of oil and liquid castile soap into your preferred soap dispenser. Next, add your desired essential oils and then fill the remaining space of the dispenser with your water. You will want to make sure that you leave just enough open space at the top so that you leave room for the foaming pump. Once the pump is screwed on tightly, shake gently to ensure that each element of the recipe is mixed well.
This recipe is great because you can make as little or as much as you want and ultimately save quite a bit of money, especially during this holiday season. If you have any questions, please feel free to comment or share your favorite recipe with us as well!