Quick & Simple Homemade Vanilla Extract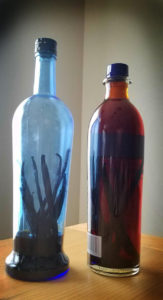 Nothing brings our family closer than spending the morning or afternoon stirring up an old favorite recipe in the kitchen. We really value our time spent together, therefore, our oven/stovetop is quite busy! From pancakes and waffles to cakes and cookies, we do it all and nearly on a daily basis at times. As a mother with an old-fashioned outlook on life, I find it crucial that my toddler understands the fundamentals when it comes to the importance of each ingredient as well as the science behind cooking.

As a single-income family, we penny pinch as often as we can. If there is a way to save, we will find it. We are the type of people that use digital coupons, stacked with paper coupons, coupled with the occasional negotiation tactics. The most important tip as a saver? It's never wrong to ask. I grocery shop once a week, spending (on average) between $150-180 for our family of three, and annually save at least $800 at the grocery store alone. Imagine what a larger family could save! Because most of our meals at home are homemade, I had to get creative for some of the more expensive necessities. One of the most notorious items that we seemed to constantly be purchasing: vanilla extract. On average, we would purchase a small 4oz. bottle of extract for $9-$12 every few months. One day, I stopped and asked myself why this was so expensive. What could possibly drive this price up so high for such a small bottle? While I may not have the answer to that particular question, I did have a solution. After a quick search online, it appeared that all vanilla extract consisted of was vodka and vanilla beans. Really?! That's it?! So simple! My next step, purchase one $10 bottle of cheap vodka and get to it!
Really, a cheap bottle of vodka does the trick. It doesn't make much of a difference once it is used as an ingredient. Besides, do you think all of these larger food companies use the good stuff anyway? Probably not. But, if you choose to use something a little fancier than the two brands pictured that I used, feel free to share your experience with us. The bottle on the left was the 1st batch that I made, beginning early in the year of 2016. As of today, we STILL have yet to finish it. As I have mentioned, we cook/bake quite frequently and I use vanilla at least 2 or 3 times a week for various recipes if that gives you any indication of how long this one bottle has lasted us. The bottle on the right was just made exactly one month ago so that I have more prepped and ready to go after we're done with the 1st bottle. It has been recommended from multiple sources that 2 months are needed in order for the beans to fully saturate the alcohol. It is also ideal that you shake the bottle at least once a week to give everything a good mix and ensure that your extract will be potent enough.
I have been purchasing these Tahitian vanilla beans to make my own vanilla extract. I go through Amazon because the prices are much better than what my local grocery store sells beans for. However, prices fluctuate online so I try to remember to check our local grocery store before purchasing just to ensure that I'm getting the best deal beforehand. You will need about 10 beans in order to get the correct potency for your extract. I have been wanting to try the bourbon vanilla beans next and would love to hear your opinions on the differences in beans!
As a recap, most grocery stores sell a 4 fl. oz. bottle of vanilla extract for at least $9, perhaps more. One bottle of cheap vodka at roughly 25 fl. Oz. (750 mL) costs around $10, while beans online are priced at $18 for the moment (I say that because I usually have been able to purchase them for $11. Seasons affect pricing). I don't think I have to finish the math to get my point across!
Watch A Quick & Easy Recipe Natural Cough Drops