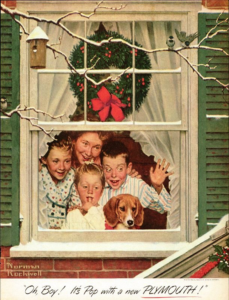 Reflect–     Take time to see things from the side of the road. Between the kids, grandkids, shopping, cooking, traveling, cleaning, the job, the commercialism….sit down. Breathe. Consider what you have, what you have lived, what you have been given.  99% of the emphasis for Christmas has nothing to do with Christmas.
Track Santa–Santa Tracker   Official NORAD Santa   Santa Update
Go Caroling– Have a blast singing in and around your local neighborhoods thru your local church or organization.  https://www.meetup.com/topics/christmas-caroling/
Leave Christmas Cards & a Gift Anonymously. If you know of someone spending Christmas alone or maybe a family struggling to make ends meet during the holidays, drop of a food basket and a card. Even a little can mean a lot. You can also do this thru local Churches, charities or food banks.
Open One Present. Just a small one from someone you are with.
Christmas Music.  Turn up the tunes! Tonight is the night for your favorite winter melodies. Manheim Steamroller Pentatonix A Little Bit of Everything
Call Someone. Let the ones you love who are distant from you know they are thought of tonight.
Cookies & Hot Cocoa. And don't forget to leave a little for Santa and his posse.
Make Time For Christ This Christmas. Whether at a local Christmas eve service or even re reading the story of His birth Luke 2 v1-20
Get To Bed Early!  You've got a big day tomorrow!
Merry Christmas Everyone!
Check Our our article "Fall Garden Preparation"