Why You Should Be Raising Ducks Opposed to Chickens
<script async src="//pagead2.googlesyndication.com/pagead/js/adsbygoogle.js"></script>
<!– Ad 4 320×100 Lg Mobile Banner –>
<ins class="adsbygoogle"
style="display:inline-block;width:320px;height:100px"
data-ad-client="ca-pub-1148920253657048″
data-ad-slot="7843566012″></ins>
<script>
(adsbygoogle = window.adsbygoogle || []).push({});
</script>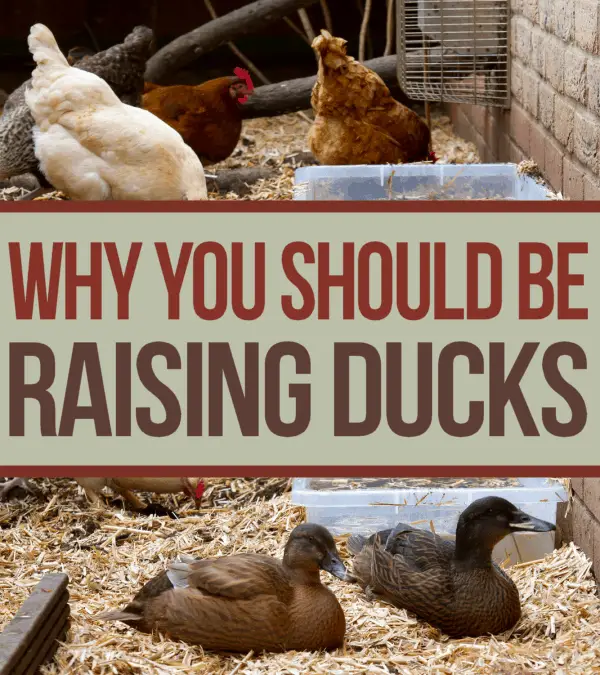 It isn't uncommon for people to have a flock of chickens in their backyard or on their homestead. Chickens are super easy to raise and produce eggs that can be eaten or sold. Raising chickens for meat is quick and inexpensive as well, which makes them a favorite for those who are living the self-sustainable lifestyle. Chickens are so common, you don't think twice about seeing a few running around a homestead. They are as natural as weeds. A rooster crowing is synonymous with country life. You are probably accustomed to seeing chickens milling about your place and have never really considered anything else.
With that said, are chickens the best small livestock to raise? Is there another option?
You may want to consider raising ducks instead of chickens. Why ducks you ask? Well, we are going to discuss some of the reasons others have opted to go with ducks for their small livestock of choice on their own farm or homestead. The animals are similar in size and both produce eggs and can be eaten as a protein source, but ducks are better for several reasons.
Egg Quality
Many people have never actually tasted a duck egg. They are not very common and when most people think of eggs, they automatically assume they must come from a chicken. Ducks produce eggs on a regular basis as well and for those who have given duck eggs a try, they say they are superior to chicken eggs. Duck eggs have more protein then their chicken counterparts. They are also rich in vitamins A, B-6 and B-12. The eggs are slightly higher in cholesterol and fat, but not so much as to really change the way you would eat duck eggs compared to chicken eggs.
Duck eggs are also better for baking. You will discover many of the fancy bakeries will use duck eggs in place of chicken eggs in their recipes. Duck eggs have a bit of a thicker consistency, almost custard-like, which makes them beautiful additions to cakes, cookies and other fluffy batters. Duck eggs are also bigger than chicken eggs, which means you need less for certain recipes and to serve for breakfast in the morning.
Ducks are Kinder to Your Yard and Garden
Many new chicken owners are not fully aware of the animal's ability to make mincemeat of a garden or yard. They may be small, but they are mighty diggers. You would be amazed at the size of holes chickens can dig. They can put a small dog to shame. They are excellent mini-tillers and can help get your garden patch ready for planting in the spring, but you need to build tall fences to keep them out of your garden throughout the growing season. Chickens are destructive. They will shred healthy plants and eat your fruits and vegetables within a matter of minutes. Their sharp beaks can break through plastic and get at potted plants and flowers.
Ducks on the other hand, with their flat bills and webbed feet are much gentler on the yard and garden. They can eat a healthy plant, but are less inclined to do so within minutes of you allowing them into the space. They will not dig holes in your yard or garden.
Many people use chickens to help reduce bugs in the yard and garden, but have to worry about them doing more damage than the bugs would have. Ducks are excellent foragers and will be more effective at reducing things like caterpillars and slugs without being quite as destructive. Ducks are mighty foragers and will work harder to get bugs than their lazy chicken counterparts. Ducks take their bug-hunting extremely serious. That is their focus. Chickens tend to scratch more than they actually forage.
Ducks are Hardier in the Cold
Backyard chickens can be problematic for those who live in colder climates. Chickens are not able to withstand the cold and will require a lot of care. Some breeds of chickens will stop laying when it is cold outside. Ducks are not quite so sensitive to the cold. They lay eggs year round. You won't have to put in quite as much effort to keep the ducks warm as you do the chickens. And most chicken owners will tell you it is tough to keep up with the demands and needs of the chickens during the winter to keep them laying eggs.
Chickens are also more susceptible to disease. Many flock owners expect to lose a chicken or two during the winter because of some disease or an intolerance to the cold. Ducks love the cold water so a little cold weather is not a big deal to them. They can still go out in the cold and snow and thrive. Chickens risk suffering from frostbite and ultimately death if they are exposed to the weather for too long. Ducks seem to have a better knack and instinct for staying warm. They are smart enough to know to tuck their heads under their wing when it is cold out. Chickens will roost with their heads exposed. This can lead to frostbite or death in extreme cases.
Ducks are Friendlier
Lastly, ducks simply make better pets. A duck isn't going to attack you with a sharp beak or try and scratch you with it's scary spurs. You don't have to worry about your little ones getting pecked by an overly aggressive chicken. Ducks tend to be much more mellow and nicer. Watching ducks waddle about your yard is entertaining. They are a sight to see when they take their bath in the pond and baby ducks are absolutely adorable. Is there anything cuter?!
Ducks are certainly not quite as popular as chickens to raise in the backyard, but more and more people are discovering the joys to raising ducks. You don't have to abandon chickens altogether. You can certainly have both. Ducks and chickens can live side by side in harmony. This means you get the best of both worlds. This spring, check into adding a few ducks to your flock. You won't be disappointed!
courtesy of homestead & prepper
See also "Care For Chickens During The Winter"
<script type="text/javascript">
amzn_assoc_placement = "adunit0";
amzn_assoc_search_bar = "true";
amzn_assoc_tracking_id = "americanou00e-20";
amzn_assoc_ad_mode = "manual";
amzn_assoc_ad_type = "smart";
amzn_assoc_marketplace = "amazon";
amzn_assoc_region = "US";
amzn_assoc_title = "My Amazon Picks";
amzn_assoc_linkid = "da8e86a1491ab902bb4f491a85cab05e";
amzn_assoc_asins = "1603426922,0989268888,1501043803,1601383762";
</script>
<script src="//z-na.amazon-adsystem.com/widgets/onejs?MarketPlace=US"></script>