"Go to sleep in your fireplace and you will sleep like a log." Ellen DeGeneres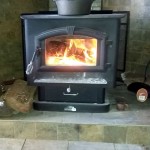 After running thru a 500 gallon tank of propane in about 45 days, I decided several years ago that I ought to be taking better advantage of the oak trees on my property. I clean up their droppings, stand beneath them and keep them company from time to time; they can return the favor. Year one I drug an old rusty Franklin wood stove out from under a pile of debris in the chicken coop. I had picked it up years earlier while cleaning out a house I had bought to remodel and rent out. Long, and heavy, I figured it would pay for itself in a shop or barn at some future point and help keep my wallet in my back pocket where it belonged. So after some course mutterings, I get the old iron widow maker into the house and over to the corner in our family room where I had already built the platform, fire and heat resistant walls, piping etc. It looked pretty good hooked up and sitting on the pedestal, sort of like my old black lab. Well, maybe more like a gargoyle. Anyway, that moment was the high point for that old iron maiden. For the next two weeks it was a smoky, leaky, creaky, drafty, cranky and very inefficient (and somewhat unsafe) example of how not to heat your house. In order to prevent any further threats and ultimatums from my wife, that antique woodburning treasure took a short ride down to the auction house and is now someone else's blessing.
That brings me to the United States Stove Company. I saw one of their products in the local farm store, did my due diligence online and decided their model 2000 would suit me just fine. Our house is a ranch style with 1500′ on the main level and another 1400′ of livable space in the finished, walkout basement. It is a rather long house with a stairway open on one side and located in the center of the house. The stove is heavy at 275 lbs but not as awkward as old smokey that it replaced. I unpacked it from the box, hooked up the blower and the flu (about 10 minutes) and I was good to go. The 2000 model will put out almost 90000 btus with a 100 cfm blower to help push the heat around the house. US Stove considers this plate steel unit to be their mid sized model. The specs say it will accept up to a 21′ log; I'm pretty sure I've found a way to get something longer than that in the firebox a time or two. This is the third winter that I've used the US Stove 2000. Yes, the picture posted above shows ash and dust on the unit. It isn't a showroom dealer photo; it is of my woodburner as it is being used. I figured now was a better time to write a review since 3 years after the fact, I can say with certainty what I like and don't like about this stove. First off, if you let it, it will run you out of your house. Screaming. On a typical 35 degree day, with a slight breeze, we can keep the house at 70 on the main level. Downstairs may be 7-8 degrees warmer. In zero/sub zero temps, 65-67 is about the norm upstairs. Mind you, that is from a stove located in the corner of one end of the house in the lower level. Personally, there is something to being able to walk around your house in January in your underwear and a t shirt. I'm home several days during the week working out of my office, and my wife is home as well. As a result, I haven't flipped the furnace on in 3 years. Of course what works for us probably isn't ideal for the family in Minnesota that works 9-5 and is gone all the time. The stove drafts well, and the burn times can easily be controlled by the flu. The fan speed is adjustable and controlled by a knob. We usually have a cast iron kettle on top of the stove and filled with water to help with the dry winter air. Oak is the main dish on the menu, although hickory and walnut are served up on occasion. The air washed glass in front is clear and is cleaned occasionally and very easily using fine steel wool. I typically will put the last log in sometime around 9, close the flu and head to bed. I'm up by 5 and can most times simply reignite the coals in short order. What doesn't work about the stove, for me, are mostly minor issues and likely just preference. There is an ash tray below the fire box for cleaning out the stove. I have found it to be cumbersome and tedious. It is much quicker for me to simply use a small metal scoop to empty the ash directly from the stove into a pail. The location of the blower fan is at the back and lower half of the stove. If you are intending to use the stove as a fireplace insert, you will find it very difficult to access. Likewise, while I have the specified distance between the stove and the wall, it is awkward to reach around the back of the unit and adjust the blower speed while so close to a very hot stove. I have an oven glove that I use on one hand to support myself against the stove while I reach in back.
I'm not a professional product reviewer. I am a consumer who knows what they like, or not, and why. There may be better stoves out there for similar money. I paid $599. The stove paid for it self in 60 days. The remaining winter I saved enough to pay for the cost of the install, the mantel, etc. I happy with US Stove and would buy another if I need one. But I don't.
T Pharris