The short and simple truth about a transfer switch for your home is that it is a safe and reliable method for keeping the lights on when the utility company cannot.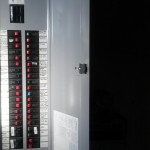 I've had one where we live for several years and have had only two occasions to use it. Depending on where you live and your skill level, a licensed electrician may be required to perform the installation. Most kits sold at the retail level contain basic instructions via print andor dvd to help ease the hookup. That doesn't mean you are qualified to tie into your service panel with a transfer switch because you replaced an outlet in your mother in law's bathroom once. Electricity is a funny thing; we invite it into our homes yet it isn't very sociable. It has little patience for error, no sense of humor and will kill you rather quickly if you let it.




There are three levels of backup "systems" that I will refer to. The first is what I call the "suicide cord". Uncle Earl has a 50′ orange extension cord that magically has a male plug on both ends. Well, the magic was actually Earl cutting a male plug from an old Kirby vacuum sweeper and grafting it onto his extension cord with some needle nose pliers and black tape. Hurricane Curley hits and doggone if he is going to sit in a hot house all day with no a/c and watch a freezer full of deer meat spoil. Guys like Earl don't understand basic principals of electrical load distribution, nor do they realize that by plugging in that cord from their generator to the wall, they are sending current out of their house and to the power pole. That's bad juju for the unsuspecting line worker who shows up a few hours later to restore the power to the neighborhood. In fact it can, and has been deadly. The common term used for this practice is "backfeeding". I can recall several contractors who would enter vacant properties owned by banks to do repairs or maintenance and backfed systems. They had no idea if the wiring was substandard, overloaded, damaged, vandalized, stolen, or in one case, sabotaged by a previous homeowner. It isn't uncommon to find homes with outdated wiring, subpanels and additions or outbuilding that completely bypass the original meter. Best thing to do is not listen to Earl. Worst case is you do and end up room temperature. Earl has about $10 invested in his cord, $1 for the garage sale Kirby, $125 for his old gennie and he's proud of himself. For those who don't believe in the dangers of the "suicide cord" contact your local municipality and check the regulations/laws. You might also dial up your utility provider and ask them for their opinion.
The second level of backup is the transfer switch.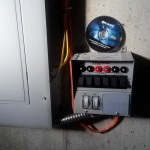 The unit is usually installed near or next to the existing electrical service panel and tied into circuits deemed vital in the event of a power outage. Most aren't designed to run an entire household, but they will provide you, depending on your generator's output, with lights, power to appliances, furnace, sump pump, etc. They usually include wiring and an external box for the generator to plug into. Transfer switches are designed to isolate the power so it never leaves your house. Usually with one flip of a switch you are off the grid. The are a variety of transfer switch models, the Reliance brand is common, and you can find them at most any hardware store or big box home improvement center. The cost can range from several hundred dollars for the basic models and up, not including installation.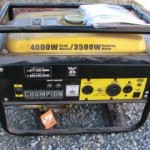 Generators to supply the juice come in different breeds and colors. For the most simple of needs, ie a couple of lights and the icebox, a 2000 watt generator may be plenty but these can also range in output. 4K-8500k are commonly used as backups, and they can also vary from the loud and obnoxious open frame contractor style units to inverter type generators that are much quieter and deliver a "cleaner" electrical current. This is useful when you need to run sensitive electronics like laptops.
The third level comprises whole house backup systems.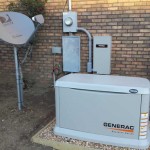 This usually begins with a large generator of 10000 watts or more, located outside and enclosed, hardwired directly into the homes electrical panel and designed to carry the entire load demand. They can be as basic as a gas unit or something that runs on propane and programmed to start immediately following a power outage. I know of one older couple that have a whole house generator not far from us. Their entire neighborhood lost power during a recent windstorm. They were watching a movie on television, and didn't realize they were on the backup system until a neighbor called. Setups like these don't require that the homeowner be home, pull a rope or plug anything in. Generac and Briggs & Stratton are two companies that carry a line of permanent home backup systems. They can cost as little as several thousand dollars up into the five figure range.
You don't have to be rural to find a product like this useful. Transfer switches, backup generators and whole house systems can be lifesavers to urban dwellers during severe weather, to those who are confined or require oxygen equipment, cpap machines, air conditioning, etc. The last several years, no differently than before, have brought hurricanes, severe storms of snow and rain, winds and earthquakes, from the east coast to the gulf coast to the western ends of the country. A small backup system can make the difference between a dry basement and a large insurance claim after the sump pump sat powerless watching that basement flood. Being self sufficient means not being in line at 9 o'clock at night at Home Depot watching the last generator being sold. It means being comfortable in your own home rather than sitting on the front porch watching the lights in your neighbor's window and waiting for the Red Cross.
tp