02/10/2014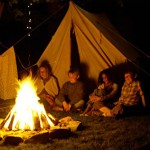 Add a few of these items in your backpack or starter kit and you'll never have to worry about crouching over a cold, smoldering pile of sticks again.
1. Lint. Start packing your dryer lint into a tupperware or shoebox. This stuff is a quick starter guranteed to light up dry kindling in a pinch. It's free and, as long as you own a dryer, plentiful. Push this stuff inside of a cardboard toilet paper or gift wrap tube and you are good to go.
2. Cotton Balls & Vaseline. There are two simple methods to make this a 100% success. You can either melt the petroleum jelly in a pan over low heat, then soaking up the cotton with the liquid, and storing inside sandwich baggies, or simply daub the cotton into the greasy stuff and you are done. The cotton will burn for several minutes, long enough to light up your firewood.
3. Steel Wool. Might be a little suprising, but this stuff is really good for firestarter, and it will ignite without even using a match. If you have two 9 volt batteries, simply place each battery on opposite sides of the wool and make contact. Voila.
4. Potato Chips. Yes, the Fritos spread all over the picnic table from yesterdays cookout will do the trick. Actually, most any chip will do. Doritoes, Lays, Pringlesetc. Eat a couple to confirm they aren't worth keeping and toss the rest onto your burn site and add some kindling.
5. Tape. Good old fashioned grey sticky duct tape. The same stuff you used to keep your wiper blade and side marker light attached to your truck. Roll it or wad it with a couple dabs of hand sanitizer to prime it. Avoid the non alcoholic sanitizer, that stuff won't do a thing.
Now that's a campfire.
TP