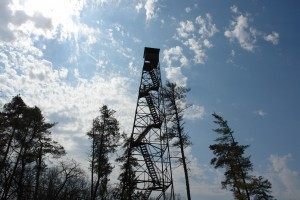 Winter And The Media (2/19/2014)
It's been a long, long winter. I've moved all the furniture, cleaned everything twice and run thru every show on Netflix. It's been the same kind of winter I remember as a kid, I just don't feel like building snowmen and sledding down the slopes anymore. The snowfall has been about what I expect as are the cold the wind and the ice. But to listen to the media, it's been the one we won't forget. The winter of '14. The talking weatherpixie for our local affiliate likes to remind us of the calamity traveling across the Rockies towards us. We're three days from the apocalypse. The artic blast is rocketing down from Canada and about to smother our pilot light at any moment. All weather news all day sets up a remote at the local Piggly Wiggly, grabbing the poor unfortunate slobs as they exit the store with the most important questions they'll ever ask someone- "Do you have enough food on hand to outlast the storm?" Schools and churches are being warned to prepare for the homeless and the unfortunate. The lost souls who will be turned away once the hospitals overflow. The StormTeam parks their tv truck along the freeway overpass and puts the 20 something reporterette in a snowsuit with a microphone, daubing her makeup in 20 degree temperatures between the sports and lottery segments. After 3 hours and about a dozen 90 second updates, there is barely a visible flake falling from the sky, and the poor girl is left to pump up the drama with the presumption that impending doom may or may not have missed us, but irregardless, stay tuned. By now, she is unable to pronounce the letter b or p. Her male counterpart has been roaming the streets looking for salt truck drivers, police and emergency management personell who will help build the anticipation of impending and never before seen disaster that awaits. He'll arrive at some local bank parking lot that hasn't been plowed of the 1 1/2″ of snow or yet salted, announces his remote as "ground zero" and continues to give alternating reports with the girl on the overpass, all the while managing to slip on the ice while on camera and bruise his tailbone. It's the Revelation, the four horseman, the end of the world as we know it. Nature's fury has come down upon us and we are powerless to fight back. Hopefully you are prepared. Hopefully, before the chaos and civil unrest that will undoubtedly erupt, you have been to the store for bread and milk. But, whatever you do, do not remove your hands from the sides of your tv set. Do not leave your living room. We will return right after these important messages from our sponsor.
GT
Cabin Fever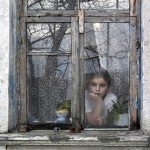 Cabin fever , first recorded in 1918,for a claustrophobic reaction that takes place when a person or group is isolated and/or shut in a small space, with nothing to do for an extended period. Cabin fever describes the extreme irritability and restlessness a person may feel in these situations.
I'm outside, warming up the 4 wheeler. It's about 6 a.m., maybe 5 degrees above zero and dark. Everything is still, no movement other than my breath as it hovers in front of my face. Sounds ok I suppose, but it's been 8 weeks straight of the same cold, wind, run to the truck, run back to the house, run to the mailbox, back to the house. Every few days, after a little more snow has fallen, I clear the drive and the walk down to the 2" sheet of ice that has been there since early December. Rock salt at these temperatures is worthless. I let the dogs out of the garage, and they gallop merrily down a trail to the pile of wood I split and carry back to the house for our stove. They don't know any better, and I doubt they care; they just get to run, and sniff and do the morning rituals that dogs do. I don't drive to an office or a timeclock somewhere, and for that I am thankful. I make my living from my home and the land around it. But I don't think it matters what you do with your time by the middle of February; the sun is still low, the days are short, and the amount of time you spend inside of a house, a car, an office just seems to compact the world into the size of a closet. By now I'm counting the days until March. Surely by March we'll be in the 50's right? Daylight savings times must be about to end, I'm sure of it. I just need to hang on until March.
My mother told me once that cabin fever is about the same thing as living with my father after he retired. The kids were gone, yet the house had become smaller, inhabited by an all knowing, all seeing, omniscient presence known as Bill, who had nothing to do but stand next to, or behind my mother, and lend his years of wisdom to everything she did or needed to do. She took a part time job and saved the marriage, but I digress.
Now I don't live in Alaska, or North Dakota or someplace where they have to drill a hole to fish in May. I'm in the lower 48, and I'll admit, even in the depths of winter, I do watch the tv shows about Alaska. It is the hot state these days; there are so many variations to tune in-the wilderness shows, the reality shows, police, logging, gold, redneck programs. The upside is the absolute undiluted magnificents of a place like Alaska; the downside, which is usually never explained, and should be, is that the summer seasons are maybe three months, and you spend every waking minute of it preparing for the 9 months of winter. I can use a little optimism that spring is coming soon to pass the time, but even being positive can get old.
So now I'm back in the garage, unloading a cart full of wood, the dogs trailing behind me sounding as if they are in heels. They both lay down in short order and gnaw at the snow frozen around their paws, waiting for breakfast and some melted water in their dish. Life for them is about the now. I doubt they get too hung up in the notion of what is around the corner. Life is still good, God is great. I do need a little more than tea and sympathy to get by now and then. I'm thinking right about now, the sight of a few crocuses or tulips would do the trick.
GT
02/10/2014

Five Quick and Easy Ways to Start Your Campfire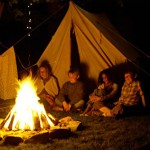 Add a few of these items in your backpack or starter kit and you'll never have to worry about crouching over a cold, smoldering pile of sticks again.
1. Lint. Start packing your dryer lint into a tupperware or shoebox. This stuff is a quick starter guranteed to light up dry kindling in a pinch. It's free and, as long as you own a dryer, plentiful. Push this stuff inside of a cardboard toilet paper or gift wrap tube and you are good to go.
2. Cotton Balls & Vaseline. There are two simple methods to make this a 100% success. You can either melt the petroleum jelly in a pan over low heat, then soaking up the cotton with the liquid, and storing inside sandwich baggies, or simply daub the cotton into the greasy stuff and you are done. The cotton will burn for several minutes, long enough to light up your firewood.
3. Steel Wool. Might be a little suprising, but this stuff is really good for firestarter, and it will ignite without even using a match. If you have two 9 volt batteries, simply place each battery on opposite sides of the wool and make contact. Voila.
4. Potato Chips. Yes, the Fritos spread all over the picnic table from yesterdays cookout will do the trick. Actually, most any chip will do. Doritoes, Lays, Pringlesetc. Eat a couple to confirm they aren't worth keeping and toss the rest onto your burn site and add some kindling.
5. Tape. Good old fashioned grey sticky duct tape. The same stuff you used to keep your wiper blade and side marker light attached to your truck. Roll it or wad it with a couple dabs of hand sanitizer to prime it. Avoid the non alcoholic sanitizer, that stuff won't do a thing.
TP