Husky 22T Log Splitter
I live out in the sticks. Actually on some property with some very large sticks. We live on land populated with hundreds of mature oak and hickory trees. Beautiful, magnificent 60+' specimens scattered around our house providing shade and windbreaks. It wasn't long after moving in that I began to notice, however, that quite a few of them were dying, or dead. Long past their prime, they still stood tall and mighty, and while I may have been grateful for their efforts, the falling limbs and rotting trunks betrayed their condition. With each passing ice storm, gust of strong winds, and sighting of carpenter ants, it became obvious that the dead ones around our house would have to go.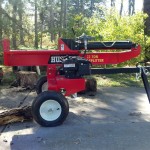 Downing trees isn't a problem for me. Been there and done that. We heat our house with a woodstove, so it's a renewable source of free heat . I just had to get the wood split and stacked. Did my homework and narrowed down a few logsplitters in my price range. I settled on the Husky 22Ton model from Tractor Supply. Picked it up for about a grand, completely assembled and ready to go. Mine has the Briggs 675 190cc motor. Some may believe that a Honda engine is the only way to go; I don't dispute Honda's reputation. I have Honda motors in my riding mower, my home backup generator and my trash pump. Can't say a thing against them. Briggs is a meat and potatoes type unit. For me, take care of them and they'll do just as they are advertised.
So, towed the splitter home, parked it in the back near a stack of logs and starting browsing thru the english version of the owner's manual. Pretty straightforward stuff, when to change the oil, etc. Made sure the fluids were good, filled the tank with gas, flipped the choke on and voila, it started on the 2nd pull. If you are at all familar with logsplitters, you won't have any trouble getting the Huskee up and running right away. The splitter uses a two stage pump to bust thru the bad boys. I haven't used a stop watch, but it seems like somewhere between 12-15 seconds to cycle back for the next log. The unit will also swing down and lock vertically so you can split the large diameter stuff that is too heavy to lift. The Huskee weighs in somewhere around 500lbs. I towed it home at road speed, and pull it around our property using a 4 wheeler or our golf cart; either do the job just fine.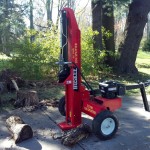 Follow Up
So, I've had this Huskee 22T log splitter for a little over a year. I would say that I probably haven't used it as much as I would if I was running a tree service, but I would consider myself a heavy user for home. I've split a large number of oak and hickory trees, with diameters up to 28″. It will break thru the knots and twisted wood as good as I've seen. I've used larger units up to 30 Tons. For what I have, and I have some pretty big trees, I don't see the need for anything more powerful.The Briggs & Stratton 675 runs strong, it is still easy to start and hasn't missed a beat. There have been no leaks or malfunctions. If there were any negatives, I'd say they should include the log cradle with the splitter. It is listed as a $40 option, and it only took about three cramps in my lower back to go buy one. They make all the difference in the world. Had a tire go flat over the winter. I don't suppose I can blame TSC for that. Are there better splitters? Yes. For less money? Haven't found one. Would I buy this model again? Sure would. And FWIW, I do not or have every worked for TSC or Husky. Just like people to know when I find something that works as advertised.