Turkey Run State Park
8121 Park Rd, Marshall, In Phone 765-597-2635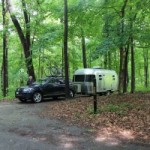 Positives- Beautiful area Secluded Camp Sites Lots of hiking trails Updated lodge with swimming pool and a restaurant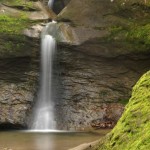 Negatives- Busy on weekends
My family and I have camped in Turkey Run numerous times over the years. Our boys, the typical preteen lot, would invariably whine and complain during the week before we would leaving for the park. Didn't want to miss out on tv, their friends, the PS3, etc. "Why do we have to go? It'll be so boring". The reality quickly sinks in once you arrive, that if you set up on a Friday afternoon with plans to stay thru Sunday, you really have to pack your schedule tight in order to experience everything. Put the most introverted kid on one of the many hiking trails, passing over suspension bridges, waterfalls, streams and climbable rock formations, and their natural desire to explore opens right up. Canoing is available just up the road from the park, and offers folks a great view from the middle of Sugar Creek. There is also an onsite nature center. It isn't that big really, but the exhibits are quite interesting, and my kids spent a long time browsing and learning some really neat stuff. If your not into RVs or tents, there are cabins available, or you can stay at the Turkey Run Inn. They have a restaurant, olympic sized swimming pool, game room and a gift shop. RV sites are equipped with electrical hookups; water faucets are scattered thruout the park and there is usually one nearby. Dumpstations are near the exit. Checkout time for the campground is about 5 p.m. so you'll have plenty of time on your last day to pack and go.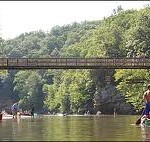 I have always found the park to be clean and well maintained. That said, don't plan on a weekend getaway there without reservations. I have found that unless I planned ahead at least 60 days in advance, my chances of getting a decent spot were slim to none. And by "decent spot", I mean anything not alongside the dumpstation. Go during the week and you'll have a much easier time of it. There is always plenty of wildlife in and around the park, just don't feed them. The Rangers will also from time to time host activities for the kids. For the price of dinner out and a movie, which will be forgotten soon after, you can enjoy a weekend getaway with your family with memories you'll always have. Now get to it!
TMP January 2014


Huntington Beach State Park
16148 Ocean Highway, Murrells Inlet, South Carolina 29576
(843) 237-4440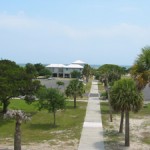 Thanks to my dawdling, we almost didn't make the trip last summer. I like to plan vacations over the winter, work out the best routes, the best layovers, and the best dates for our destination. Little did I realize that if you want a decent spot along the ocean near Myrtle Beach during the tourist swarm, you had better book a spot early. By the end of January I thought I had everything in order and began my reservations. That came to a screeching halt in about 5 clicks of the mouse. Very few camping sites were available. I had wanted to stay specifically at Huntington Beach. It is a state park, south of the inner city chaos yet close enough to make it to the sites in short order. Fortunately, instead of settling for a last chance, back 40 spot, I hit the website every morning holding out for a cancellation. Sure enough, after about two weeks I had what I wanted. A site just off the beach, water and electric and a couple trees to lay some shade to the camper. We are from the midwest, so I am familiar with the humidity of summer. Arriving in late July, I expected it to be hot and hazy. Yes……it was.
If you aren't familiar, South Carolina is considered a sub tropical climate, meaning the air is thick, hot and heavy. Think walking on the moon while on fire. Even the rain was hot. Actually I prefer stifling heat over the midwest winters. I have a cousin in Minnesota who invites me to ice fish with him on their lake. Drag a shack across the ice the size of a porta potty, drill thru 28′ of ice, drop your line and sit on a stool with a frozen beer for 6 hours. I'm still trying to understand that one…
We arrived on a Monday afternoon. The office that we checked in also contains a small store/gift shop. There is a large parking lot for the public access beach. Now this is where I get to the bonus feature of the campground. There is a large section of beach, partitioned off for campground guests only, meaning that regardless if the campground was completely booked, on any given day for the week that we stayed, there never were more than a couple dozen people on the beach. No elbow to elbow dog underfoot hairy guy with the sun block type scenario. Plenty of room to roam. The same can be said for the sites themselves. The neighboring sites on either side were a good 40′ away. This isn't a park that jams campers on top of each other to maximize the almighty dollar. Nor were the sites laid out in a cookie cutter fashion. Sites inside the loop generally had little shade an were open; sites on the outside of the loops usually had some trees and shrubbery, while another loop was designed so that you backed your camper into a dense canopy of hedge that completely enveloped your site.
Bike trails are plenty, and there is a causeway with tours and lookout posts for sighting the local gators. The latter isn't hard; they seemed intent on observing the tourists as much as we were watching them. For different purposes I am sure.
There is a main gate with a guardpost that closes and locks at 10 p.m. If you choose to hit the nightspots just make sure you have the password to open it up when you return. Walmart, seafood, bars, entertainment, are all within 20 minutes, but we ventured out only twice during the entire week. The only negative we experienced were the ants. Bring some boric acid and sprinkle it around the perimeter of your RV. Make sure you treat the ends of your clothesline and anything else that comes in contact with your camper. Ants are smart buggers and not easy to dissuade, and it was difficult to convince my wife that was pepper in the flour box.
Campsite prices are reasonable, up to $40 per night, wi fi is available if needed, and even without cable, we picked up a dozen local stations on the television. 01/2014 TMP